You can trust people who chat online
The 10 benefits of live chat you should know
When we ask companies why they don't offer live chat, we usually hear a variation on the same answer: "We already have phone, email, and even social media support. What do we need live chat for?"
In the digital age, competition and consumer power are greater than ever. This is good news for consumers as it forces companies to put customer needs and expectations first.
Live chat is an integral part of a good customer service experience. It enables you to contact your customers in real time and directly on your website.
The combination of these properties clearly sets live chat apart from all other contact channels and has a positive effect on the success of your company.
Let's take a closer look at the various benefits of live chat - for your business, your customers, and your service team.
Optimize conversion rate
One of the main reasons so many companies swear by live chat is because of the impact it has on sales. Studies confirm this positive chat conversion relationship.
A Virgin Airlines case study showed live chat had a 3.5 times higher conversion rate compared to email contact. In addition, she found that chatters showed a 15% higher shopping cart value compared to those who hadn't used the chat.
In another case study, electronics retailer Cyberport reported that visitors who contacted via chat were five times more likely to buy something.
So what are the reasons that chat is driving sales?
In the 21st century, your website is the showcase of your business. A physical store with no service staff to greet and advise customers is hard to imagine. But this element was deleted without replacement for most of them when companies transitioned into the digital age.
In order to survive in the extremely competitive online market, companies are increasingly realizing that they have to focus on the customer again. This also means that they are available to answer questions and advise their customers on product selection.
Although retail is increasingly online, many companies still rely on outdated contact channels for customer service. In addition to the changed customer preferences, which we will go into later, this also means that a switch between different communication channels is necessary - which has a negative effect on your conversion.
To send an email, the customer must leave your website. If his question is decisive for the purchase decision, he now has to wait for an answer or he will go straight to your competitor.
Live chat is the only channel that takes place both directly on the site and in real time. This unique combination enables you to navigate visitors to your website and to answer questions that are crucial to a purchase directly.
Reduce service costs and increase efficiency
Conversion rate is an important metric, but to be profitable you need to consider other factors as well.
Live chat hits the mark here, as it not only brings in money, but also saves a lot.
A Forrester study shows that a live chat session is 20 to 50 percent cheaper than a phone call. The shortened problem-solving time is the main reason for the cost reduction. In addition, intelligent routing options reduce inefficient redirects by connecting customers directly to the right agent. Live chat agents even serve several customers at the same time, for example when they use pre-formulated text modules and thus solve inquiries with one click.
Avoid abandoning shopping carts
Consumers are by leaps and bounds. You have no problem dropping your business without blinking an eyelid. The checkout process is too complicated? The delivery costs are unclear?
The next please.
Unsurprisingly, shopping cart abandonments are one of the biggest challenges facing online businesses, with averages close to 80%. According to the Baymard Institute, unexpected costs are the main reason customers leave the shopping cart without completing a purchase.
When delivery costs and times vary, for example by country or product category, customers are often left alone to scour the website for the right information.
By including a live chat on your website, you avoid uncertainties. They show willingness to answer questions that may arise in the course of the checkout process. Transparency is a key factor in building trust in online businesses.
Of course, not every customer wants to get help. The "Just browsing"Customer type does not only exist in real life, but also finds an ideal environment, especially in the online world, where no one can talk them into buying.
Or maybe yes? Proactively invite visitors who have shown interest in your products to chat. This allows you to do what good physical store salespeople do: create desire and motivate them to buy. Inform your potential customers in the chat about limited offers, for example.
Chat solutions like Userlike improve your sales opportunities even further. If you connect your tracking tool to the live chat, important data is available to you throughout the entire customer journey. This gives you the opportunity to target visitors based on interests and stage in the sales funnel.
Every chat agent can see which page the customer is currently on and what they have in their shopping cart. This is extremely valuable for us in order to offer target group-specific support and to avoid abandoned shopping carts.

Jens Lippert, Cyberport
Increase customer satisfaction
From a company perspective, it all sounds very promising. But what do your customers actually think of live chat?
In short, live chat is the customer favorite and generates satisfaction rates of over 90%.
On closer inspection, this is hardly surprising. So far, customers in customer service have had to endure a lot, for example being bothered by bad hotline music in a continuous loop or waiting for days for an impersonal e-mail that, if in doubt, did not even solve the problem. Live chat is the modern contact channel that resolves these customer annoyances. These are the reasons:
It's fast. Most of all, customers love the convenience of chat. A study by Econsultancy showed that almost 80% of respondents prefer live chat because they get instant responses.
It's free. Telephone hotlines can also provide (relatively) quick answers, but these are often associated with high costs. Long calls quickly become expensive, especially when you have to pay international fees.
It's anonymous. In the chat, customers can ask questions without having to pay attention to formalities (and grammar). When it comes to email, people are more cautious as they reveal their email address, which often includes their own name. Even if they don't say their name on the phone, the direct interaction already feels intimate. Live chat is the only channel that allows users complete anonymity.
It's inclusive. Unfortunately, customers still experience discrimination based on gender, race, age, or disability in business situations. The anonymity of the chat hides these properties and puts the focus on people. LVM Versicherung reports that live chat creates an inclusive service culture that also gives deaf people an easy way to get in touch with their service team.
It's entertaining. Younger generations seem to have grown up with their cell phones, but show an immense fear of its original function: to call someone. And that's no longer limited to this demographic group; the use of messenger apps in private communication has fundamentally changed the way people communicate. With live chat you bring the preferred way of communicating directly to your website.
It's multimedia friendly. Chatting is easy and fun, but getting to the heart of a problem is not always easy. Live chat functions such as file sharing, voice messages and media attachments give your customers different options to express themselves - without having to switch channels. For example, instead of typing in a long customer number, they could simply take a picture of their membership card and share it in the chat.
Live chat improves the customer experience because it brings a seamless, hassle-free contact channel to your website.
Personalize your brand
Getting closer to customers is on the agenda of every company. But easier said than done when you are separated from them by a thick layer of cyberspace.
Live chat helps overcome this canyon and build long-term relationships with your customers.
Your service team is at the front of your company. Take the opportunity to give your brand a face. Operator names and images create a direct, friendly connection. Design the chat window according to your corporate identity in order to link the chat more closely to the appearance of your brand.
Titus: "Userlike enables us to offer our online customers a personal shopping experience like in a real skate shop"
Smart routing modes automatically connect your customer with the agent with whom he has previously written. That kills two birds with one stone. You improve your service efficiency, since the agent is already familiar with the matter, and at the same time strengthen the customer relationship.
Collect customer data
In the digital age, data is the most sought-after raw material. Live chat makes it easy to collect relevant customer information like name, email address and location.
Build up meaningful contact profiles and address your customers in a targeted manner. For example, if you have information about the customer's location, you will immediately know whether you are delivering to their region or whether there is a branch nearby.
You can also use the contact database to address your customers again after the chat session. For example, to inform you about a special offer or an innovation to the contract.
Customers are more willing to rate a live chat than any other customer interaction. This direct feedback is extremely interesting as it gives you a clear picture of what your customers think and how you can tailor your product to their needs.
Another advantage of live chat is that it does not stand on its own, but can be easily connected to your other tools. Import the customer data from your live chat solution into your CRM. For example, convert chats into Salesforce deals so that your sales team can follow up on the chat conversation.
Customer data is insightful for businesses, but governments are increasingly making efforts to protect customers from overly greedy data octopuses.
But that's not a problem with live chat. Activate the data protection mode with one click and prevent the storage of all customer information that is not explicitly provided.
Read more about the data protection setup of Userlike, which German companies trust, in this post.
Automate service with chatbots
"Where is my order?" "What are the delivery costs?" "How can I reset my password?"
I'm sure your customers ask a lot of repetitive questions. Chatbots are great at answering common questions and patiently taking on the repetitive part of customer service.
Our research showed that 65% of respondents prefer to talk to a chatbot when it gives them a quicker response.
Customers prefer to speak directly to a chatbot to clarify a question than to wait for someone to work.
A win-win situation: You save service costs and your customers quickly get the answer they need.
A chatbot or a self-service AI can easily be linked to your live chat solution. So you can implement a setup in which all chats are first routed to the bot. He can hand over complex inquiries to a human agent at any time.
Motivate service agents
We have seen that live chat offers many advantages from a business and customer perspective. But how are the people who use the chat?
Customer service activities are often demanding and stressful. Therefore, your support team will probably not be particularly pleased to maintain another channel. However, live chat usually quickly turns skeptics into fans, such as at Volksbank Lahr.
At first, some agents were a little nervous about having the chat and responding quickly enough. But those worries quickly evaporated. The chat system is intuitive to use and fun.

Florian Störk, Head of Department Volksbank Direkt
More personal. The ticket-in-ticket-out approach of traditional customer service isn't just dehumanizing for your customers - your support team is in the same boat. Live chat is inherently a fun, informal communication channel. This makes the service interaction feel like a face-to-face conversation rather than robotic handling.
The first thing you write in the chat is Hey Matt! '. It just feels so much more personal than 'Hallo Titus'.

Matt Kuncaitis, Customer Service Titus
Immediate feedback. It is motivating when you can see that your own dedication sweetens the customer's day. In contrast to telephone or e-mail support, you can integrate a survey directly into the chat. It's short and unobtrusive, so customers are much more inclined to express their gratitude for the good service and leave a review.
Less strenuous. Writing is less tiring than talking on the phone all day, especially when dealing with angry customers. Ready-made text modules enable chat agents to answer at lightning speed without having to expend much energy. The division of labor between chatbots and agents further increases motivation as it allows employees to focus on the more interesting, demanding aspects of support.
Studies show that moods and emotions are contagious. This is why the satisfaction of your team is so important to the success of your company. Happier service people lead to happier customers. :)
Measure success
In a data-driven environment, it is important to evaluate the success of new software.
Live chat solutions come with integrated analysis tools that make it easy to track the KPIs that are important to you. For example, the response time, the number of incoming chats or the satisfaction rate. You can also connect external software for extended tracking functions.
Learn more about the live chat KPIs to watch out for in this post.
Create a competitive advantage
As we've seen, customers move on quickly if they can't find what they're looking for or if it seems too complicated. There is no longer any tolerance for poor service. Live chat is an effective solution for accompanying customers on the customer journey and significantly improving your shopping experience.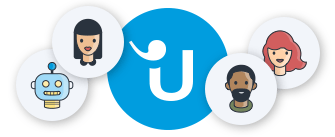 Do you want better customer relationships?
Try Userlike for free and chat with your customers on your website, Facebook Messenger and Telegram.
Learn more
Even if live chat now seems like a standard, many companies have not yet taken the step towards digitization. It is frightening that in a leading economic nation like Germany, more companies are using fax machines instead of online meetings.
If your target group is not end consumers but other companies, the market is even less likely to arrive in the digital world. B2B companies lag far behind B2C in terms of customer experience.
In particularly competitive markets, small changes can have a big impact. According to a Gartner study, a good customer experience is a fundamental competitive advantage. Live chat gives you the chance to close deals that your competitors are neglecting to do.
Another characteristic of digital trading is the connection between markets on a global scale. Getting an international audience to see your site is one thing. However, advising them in their mother tongue is more of a challenge. Live chat functions, such as automatic translation, remove language barriers and allow you to offer multilingual support.
We are an internationally recognized university. Therefore, many students come to our site who may not speak fluent German or English. For non-native speakers, chatting is much more convenient than making a phone call.

Florian Fürst, Frankfurt School of Finance
Another benefit of live chat: it works for all types of companies. From small start-ups to medium-sized companies to large corporations.
Live chat is browser-based, so there is no software to install and it only takes a few minutes to set up. Start your free trial today and meet your customers on their favorite channel.