What are MOA studies used for?
Animal or microbial rennet in cheese? Which one is not vegetarian?
How long does the cheese keep?
It is not easy to make statements about the shelf life, because cheese is a living product and matures differently, as the environment and storage play an important role. You will find some help attached.
Guide values ​​for shelf life (from arrival at you):
Cream and soft cheese: approx. 7 days
Blue cheese: approx. 7 days
Sliced ​​cheese: approx. 14 days
Hard cheese: approx. 1 month
Also take a look at our tips for handling cheese: Tips on cheese and shelf life.
When does the cheese arrive?
Incoming order → delivery


Monday until midnight → Wednesday / Thursday *


Tuesday until midnight → Thursday / Friday *


Wednesday until midnight → Friday / Saturday *


Thursday / Friday / Saturday until midnight → Tuesday / Wednesday *


Sunday until midnight → Wednesday / Thursday *
* With our shipping partner DHL, 98% of our packages are delivered as specified. In 2% of the cases it can take another working day, but our cooling system can withstand that without any problems.
Please note that the shipments for the cheese subscriptions are sent on the first Wednesday of the month and packages for the tastings on Monday are sent in the week of the tasting.
Can I track the shipment?
You will receive a link to track your shipment as soon as the package has left our warehouse.
Can I receive the shipment at a Packstation?
Since we deliver with DHL, you can also receive your package at a packing station without any problems.
Can I receive the shipment at work?
If you are unsure whether you can receive the parcel at home, you can also receive it conveniently at work. The package contains special cooling packaging so that you can easily transport your cheese home.
What is the best way to store the cheese?
Basically, you should follow the following rules so that the cheese is optimally stored:
Store not too warm and not too cold
Store in a cool and dark area
Never pack cheese completely airtight
Better in one piece than cut
You can find more useful tips on storage in our article "Keep cheese".
How is the cheese packaged / cooled?
We only use sustainable materials for cooling. You can find out more about our sustainable packaging here.
What do I do with the packaging material?
You can send the packaging material to us for further use and receive a 10% discount code as a thank you. Here you can find out everything about our sustainable concept.
What does the AOP or DOP labeling mean on some varieties?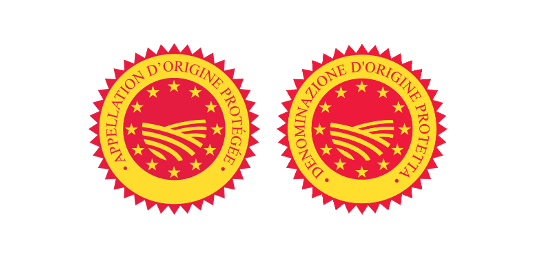 The AOP (Appellation d'Origine Protégée) or DOP (Denominazione d'Origine Protetta) seal stands for controlled and proven quality in the cheese trade. Only cheeses that meet strict criteria regarding the origin of the milk, the place of manufacture and the manufacturing process may bear this seal. We are therefore all the more proud that the majority of our cheeses carry an AOP or DOP seal.
This is guaranteed by the seal:
Production (milk production, processing and maturation) in the production area
Protection against counterfeiting through strict specifications and constant manufacturer controls by an independent certification company
Promotion of the regional economy in the production areas