How do I get started with Stripe
Start with Stripe
This guide provides a brief introduction to how to accept payments in your One.com webshop. This is possible by connecting your website builder website to a Stripe account.
Do you need further answers?Check out the frequently asked questions about Stripe.
---
Step 1 - Open Settings
Step 2 - Connect to your Stripe account
Step 3 - Start Accepting Payments
---
Step 1 - Open Settings
First you need to access the settings for payments in your webshop.
Sign in to your Control panel at
Choose Webshop out
click on Settings in menu
Scroll down to Payment options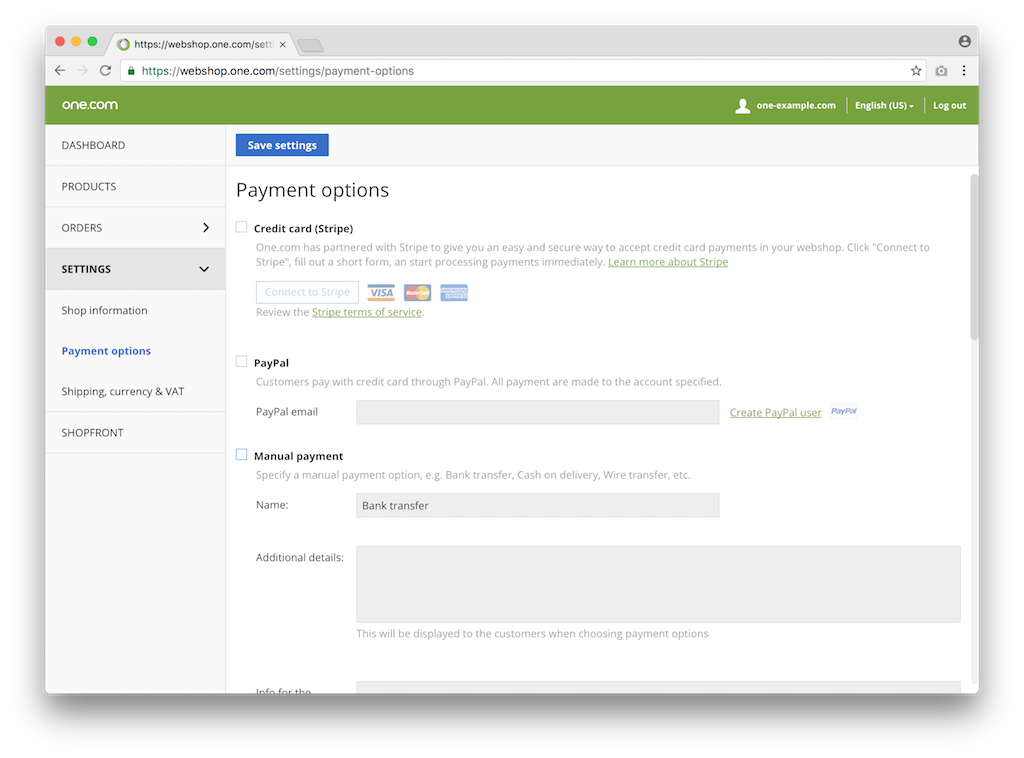 ---
Step 2 - Connect to your Stripe account
Select Stripe as your payment options and save your settings.
Choose Credit Card (Stripe)
click on save settings on the top of the screen.
click on Connect with Stripe
You will be redirected to Stripe, where you can log into your existing Stripe account or create a new account.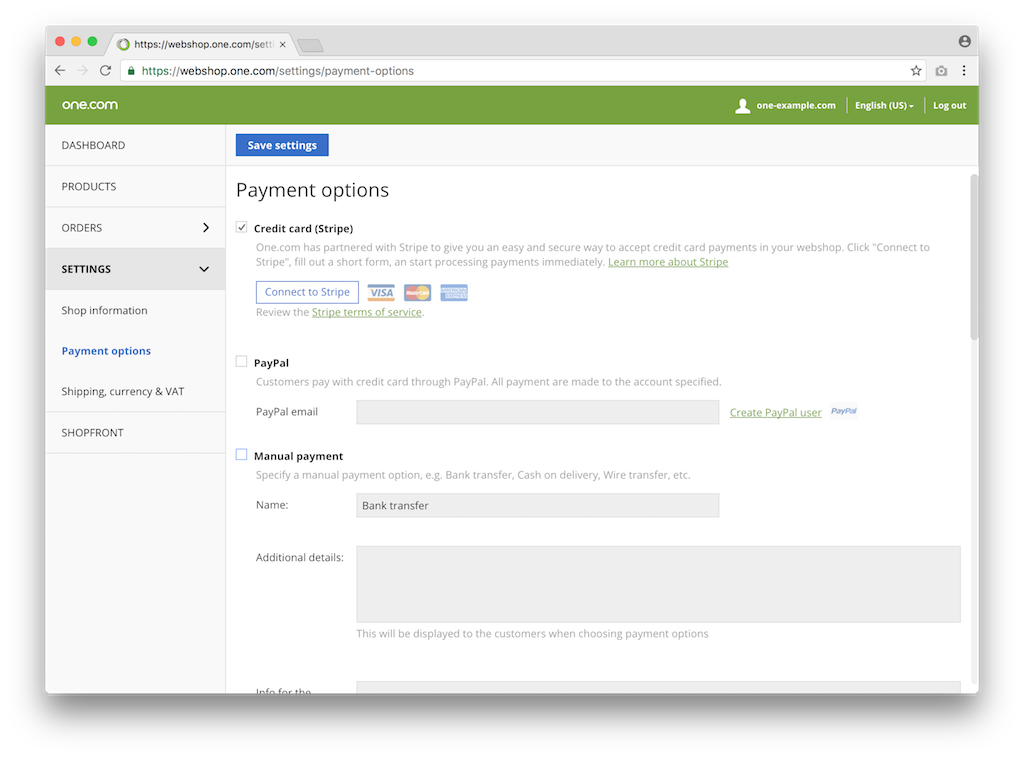 ---
Connect to an existing Stripe account
If you already have a Stripe account, click at the top of the page Log In instead of creating a new account. Log in with your Stripe username and password.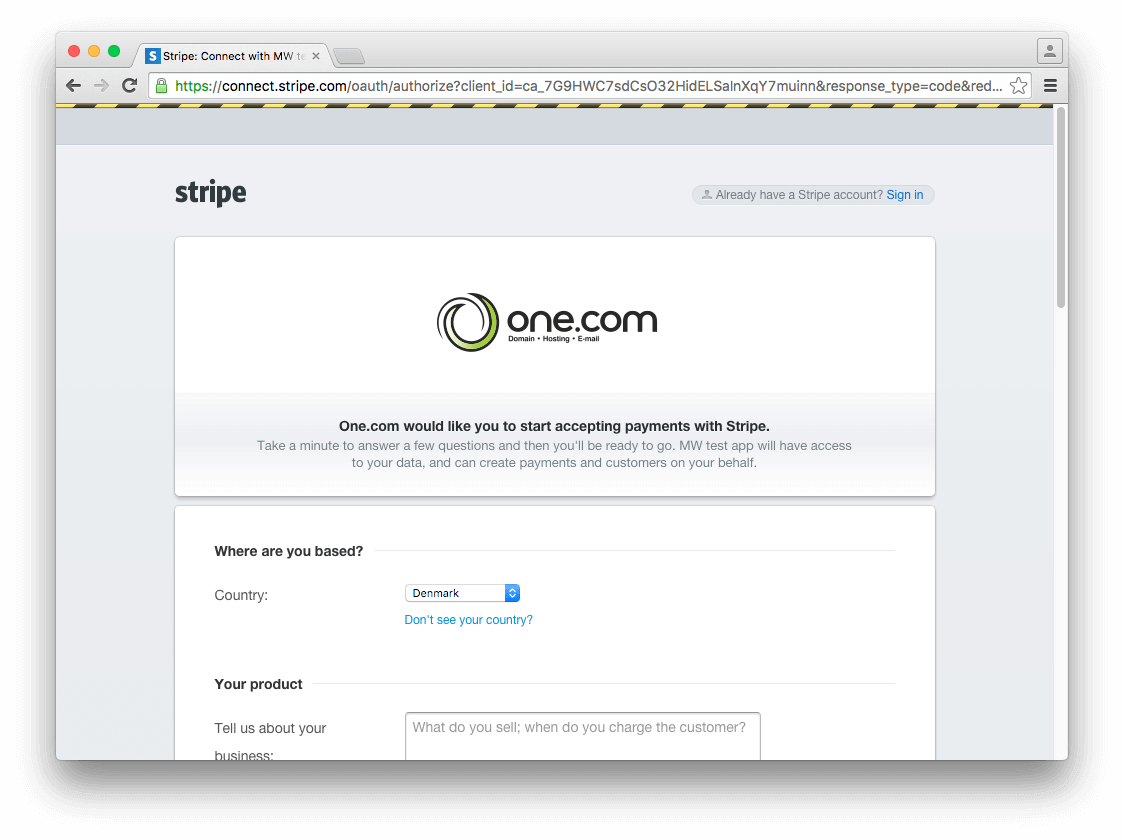 ---
Create a new Stripe account
If you're creating a new Stripe account, scroll down and fill out the form with your contact details. click on Authorize access to this account at the bottom of the page.
Note: Remember to verify your email account by clicking the link in the email you received from Stripe.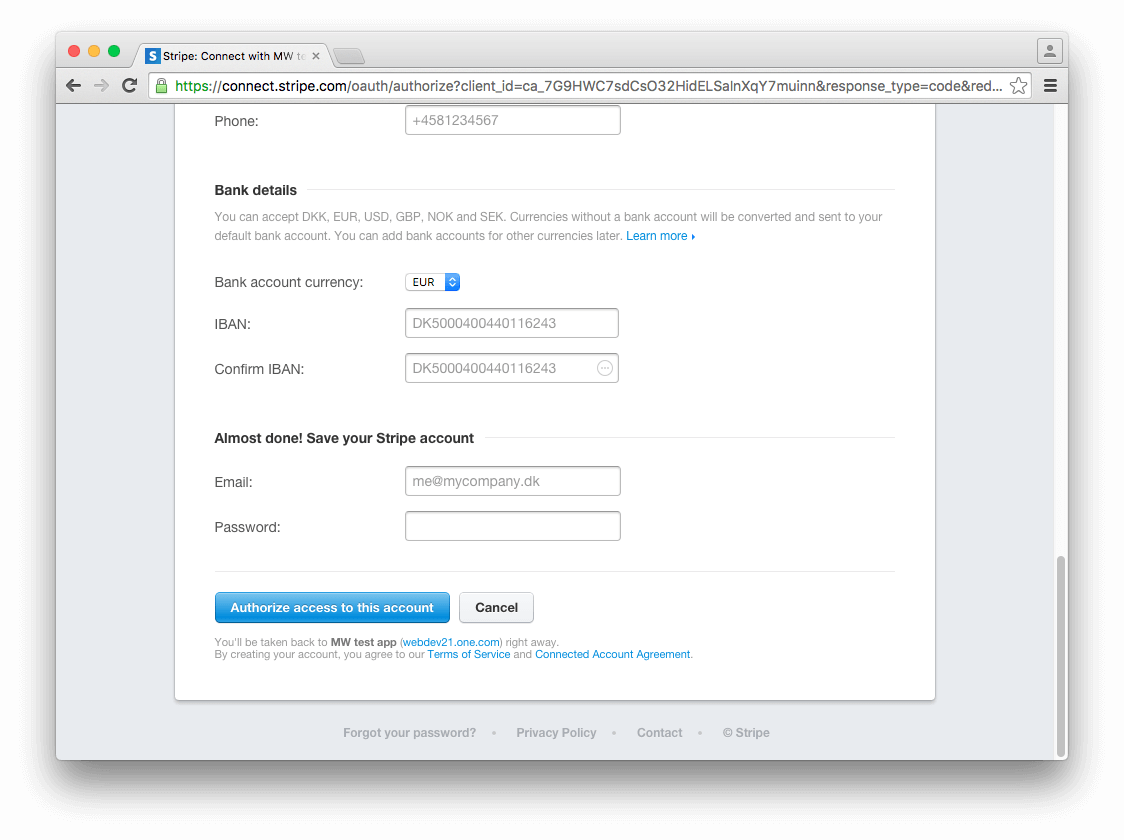 Note: If you are asked for a tax or identification number and you do not have either number, you can provide your social security number instead.
---
Step 3 - Start Accepting Payments
When your account has been created and connected to Stripe, you will see the word "Connected" in the webshop settings.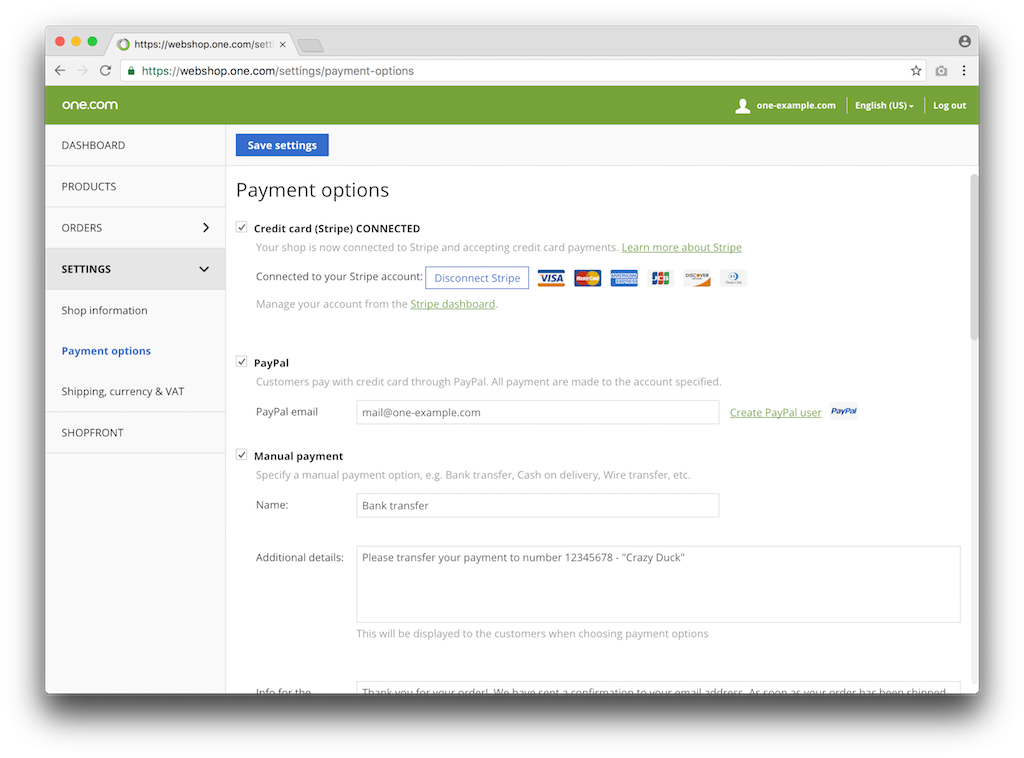 Your webshop now offers Stripe as one of the payment methods available for your customers under checkout.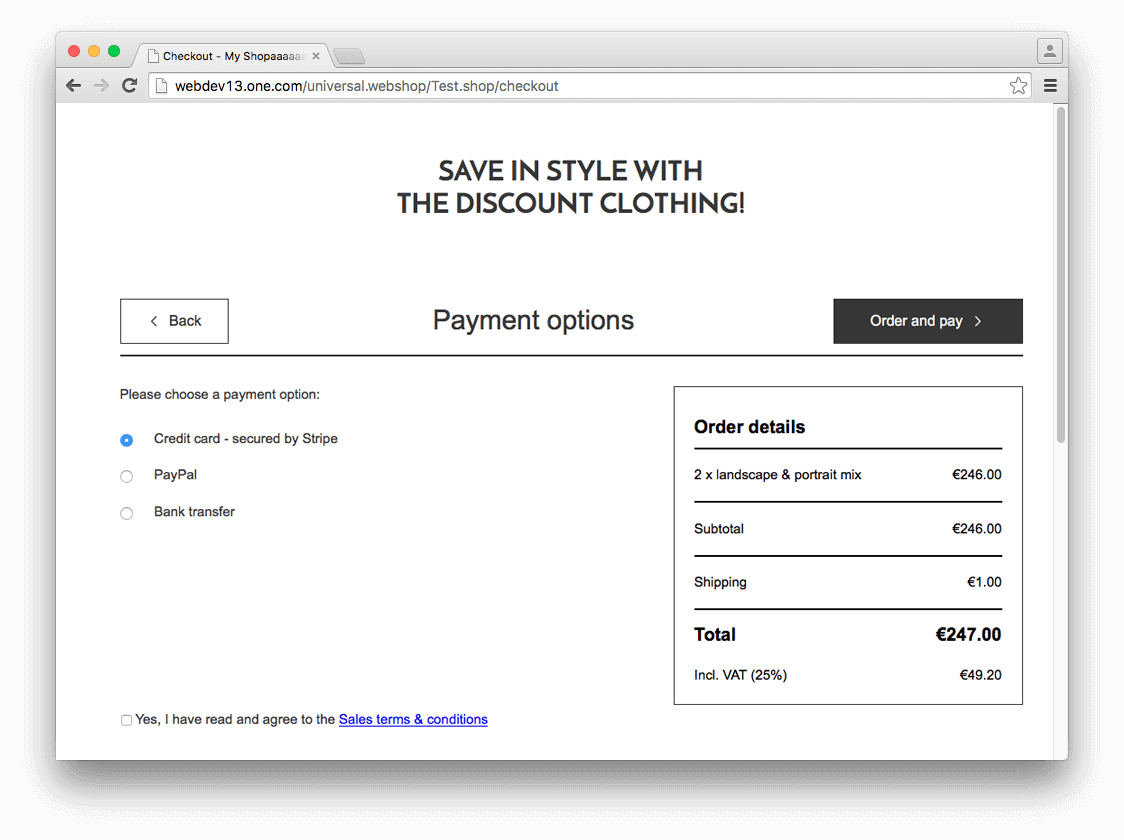 When your customers click Order and pay the Stripe window is displayed.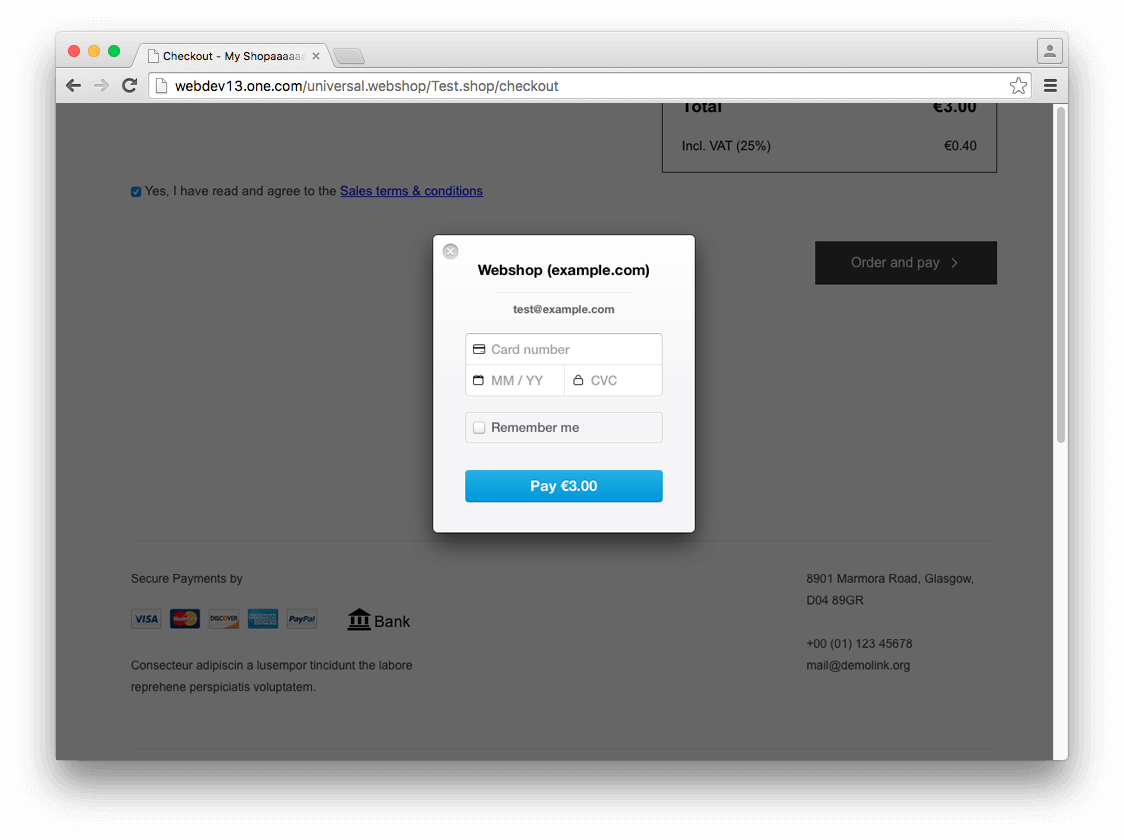 Finished!
---
More information about Stripe:
Frequently asked questions about Stripe
Find answers in the Stripe Support section
Stripe prices
Sign in to your Stripe dashboard