What happened after the Holocaust
Holocaust eyewitness: "You have to tell what they did to us"
Erna de Vries likes to sit under her magnolia tree, enjoying the rays of the sun and the fresh air. But outside she also reminds something of experiences from her past every day. A piece of bread that lies on the ground, for example. Then Erna de Vries thinks of how hungry she was back then and thinks it shouldn't be that someone just throws bread away. Or she sees a birch and the Auschwitz-Birkenau concentration camp appears before her eyes.
The National Socialists deported their Jewish mother there in 1943. Erna de Vries herself wanted to spare the Nazis, her father, who died early, was Protestant, so she was a "half-Jewish" in Nazi jargon. Since she did not want to be left alone, she followed her mother to the extermination camp, where more than a million people were to be murdered by 1945. Probably including Erna de Vries' mother.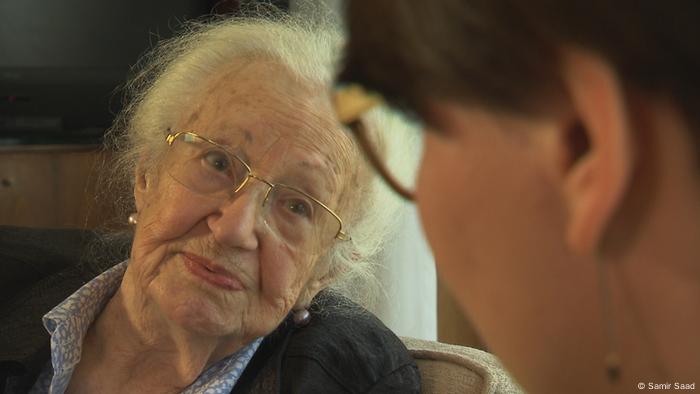 Erna de Vries in her house in Emsland
When de Vries talks about the years in the camp, she looks thoughtful, but at the same time looks very composed.
"You have to fight, you have to survive and tell what they did to us."
Erna de Vries has told her story many times. On road. In front of schoolchildren, in their home community in Northern Germany, at the university in the nearby city. The impetus for this is still given by her mother's words, which she addressed to her the last time they saw each other:"Erna you have to fight, you have to survive and tell what they did to us."
"Saying goodbye to my mother was the hardest part of the camp," says Erna de Vries. "I knew very well that she would not come out of Auschwitz again." At 96, de Vries found it increasingly difficult to tell her story in public. She no longer sees very well, only hears when you speak loudly and clearly close to her ear. For short walks she needs her walking aid, which she calls the "Rolls-Royce of walking frames".
That's why Erna de Vries is happy that there is someone who can pass on her memories. Someone like Vanessa Eisenhardt.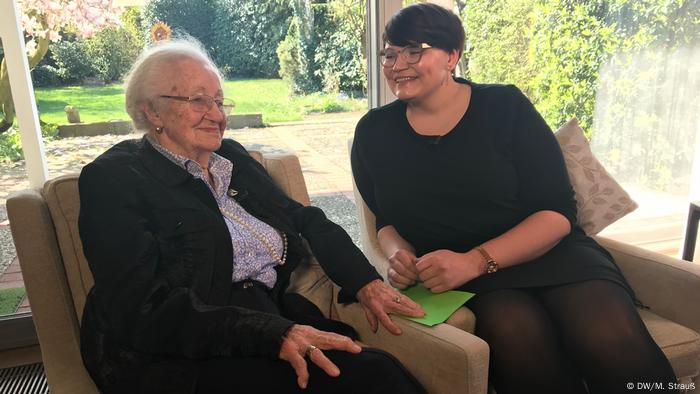 The contemporary witness Erna de Vries passes on her memories of the second witness Vanessa Eisenhardt
The 30-year-old history doctoral candidate calls herself a "second witness" and is a member of the "Heimatsucher" association, which meets with Holocaust survivors, collects and tells their stories. Vanessa brought Erna de Vries a stack of letters from students on this sunny spring day. The day before she had told de Vries' story in a high school in Bayreuth in southern Germany and then asked the students to write down their thoughts for de Vries.
Remembering without witnesses
Vanessa Eisenhardt and other "second witnesses" travel all over Germany every few weeks to talk to schools about Erna de Vries or other survivors of the Holocaust. Your association has collected the memories of around 35 contemporary witnesses in Israel, Germany and other European countries and has maintained a very close relationship with them over the years. Some of them are still alive, many have since passed away.
In Bayreuth, Eisenhardt tells not only about what de Vries experienced during the Nazi era, but also about the before and after: about de Vries' desire to become a doctor, about her work as a nurse, about her husband, whom she afterwards Krieg got to know her three children, six grandchildren and about her long-cherished - but never realized - wish to emigrate to Israel.
Personal stories are often lost between facts and figures
Eisenhardt says that the personal is often neglected in history lessons. "Big numbers, big pictures, six million people murdered." That is sometimes difficult to grasp. With stories like that of Erna de Vries, she wants to show students how the National Socialists were able to limit and destroy a life in Germany. And how the past affects today. "Stories like this show what happens when you give space to racism and anti-Semitism and allow it. To the extent that it can then no longer be changed."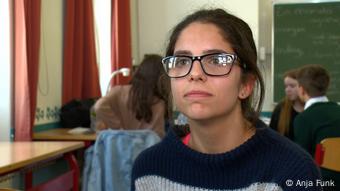 14-year-old Ambra Rizzo
In Bayreuth, the students were particularly impressed by the request from Erna de Vries' mother to fight and to pass on what happened to her and other Jews. "I was very close to crying," says 14-year-old Ambra Rizzo. "I loved your will to survive and tell the story."
She was moved that the mother did not simply say "Bye, I love you, I will never see you again", but asked Erna to fight and carry on, says Sanya Schuberth, 15. And she warns: "I think that some people should be opened their eyes because they believe that something like this can never happen again. " Sanya, Ambra and the other students should now tell the story of Erna de Vries, as "second witnesses".
"I have so much respect for you."
Back at Erna de Vries' home in northern Germany, Vanessa Eisenhardt reads from Sanya's letter:
"Dear Erna, I am sure that you are a really great and brave woman. I can't say it often enough. I have so much respect for you."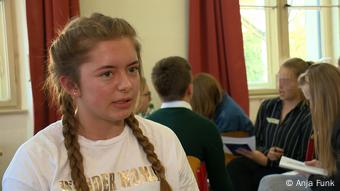 15-year-old Sanya Schuberth
Erna de Vries smiles and says that she now has a whole box of letters from students at home. Of course, she was happy that they accepted their story to be told to them. "Often people are not interested at all."
With her rollator, Erna de Vries moves back from the living room onto the terrace under her blooming magnolia tree. Two days ago the flowers were even more beautiful, they slowly withered. De Vries is grateful that after the war she had a good life with healthy children and grandchildren. Her husband and she have always felt a certain satisfaction that the Nazis hadn't managed to kill them all. Now she is counting on people like Vanessa Eisenhardt to keep telling her story, "that it somehow stays in people's heads and isn't completely forgotten."