What are good last minute romantic dates
45 date ideas for the Christmas season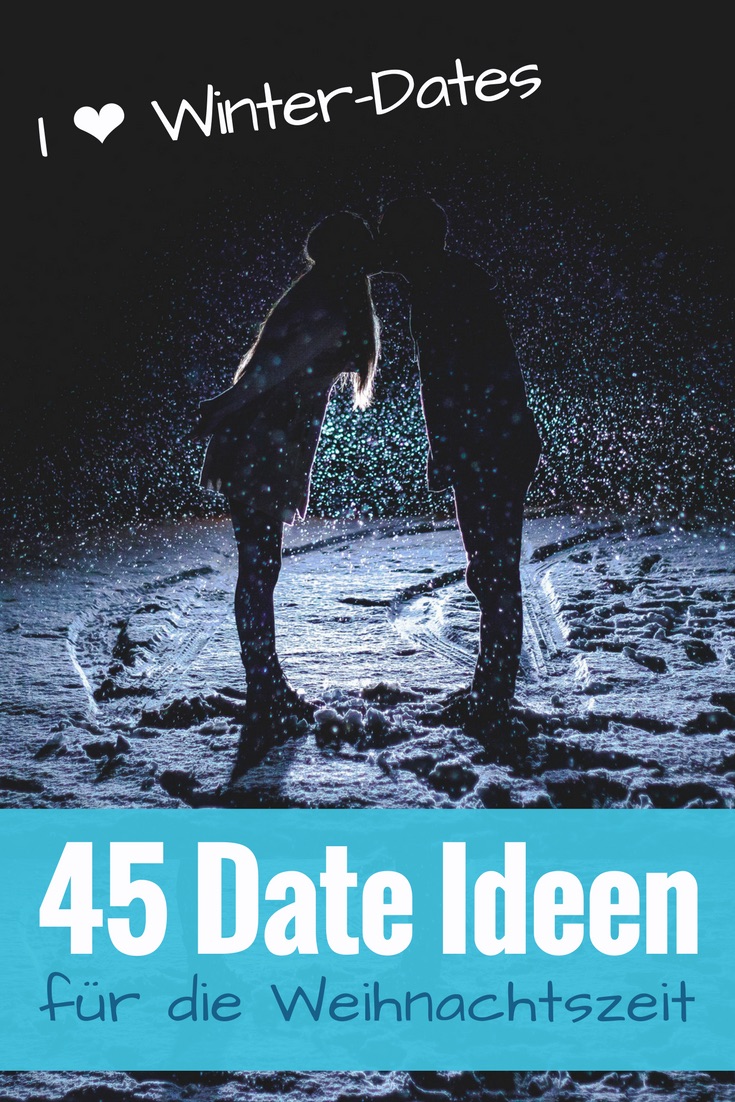 Yesterday I had the really great idea that I could quickly make an advent calendar myself. There are still three days left. Should be possible, right? After all, I already have an extensive list of over 125 ideas for filling an Advent calendar.
But of course I didn't really like any of them, after all, it should be a NEW idea this year. Really annoying, these demands on yourself =)
After extensive pondering and sleeping over it for a night and thus still 2 days for handicrafts (go me!) I have now almost decided to fill my calendar with 24 dates. Since I love lists, step 1 is now the listing of all mine Winter date ideas.

45 winter date ideas for the run up to Christmas
Update (28.10.2020): In order to get through the winter time safely and healthily this year, I have added some date ideas to possible alternatives for home.
Visit to the Christmas market including mulled wine, waffles, roasted almonds, aniseed sweets and everything that goes with it.

Alternative for home: Put up your Christmas tree earlier this year and order your favorite Christmas market snacks home. At Foodist, for example, there are various roasted nuts and a large selection of mulled wine and alternatives without alcohol

Joint selfie session with Santa hats or Christmas photo booth accessories (for funny Christmas greetings or the home screen)
Take Christmas photos in the classic black and white photo booth

Alternative for home: Use the black and white filter of the camera and order photo strips online

Winter walk with hot drink to go (thermos flask, rechargeable hand warmers & partner gloves help keep drink and person warm =)
Write Christmas cards to each other and send them by post
"Snowstorm & Power Failure" - an evening together without any electronics, with candlelight and conversations
Christmas movie marathon: movie night with romantic Christmas films
Christmas TV evening: watch Christmas episodes of your favorite TV series
Bake cookies together
Gingerbread house (baking &) decorating
Build a snowman or - even better - a pair of snowmen
Decorate your apartment for Christmas together
Choosing the perfect Christmas tree together or a trip to a Tannenhof to cut the Christmas tree yourself
Set up & decorate the Christmas tree together
Indoor camping trip: sleep together in the living room next to the Christmas tree
Ice skating together
Go sledding together
Snowball fight
Anti-Christmas date: a day / evening without any Christmas mood (repetition of a nice summer memory, such as a barbecue evening, picnic in the living room with the summer hits playlist, order pizza and look at photos from summer vacation)
Visit the sauna or wellness bath

Alternative for home: Treat yourself to a Rituals gift box and transform your bathroom into your personal wellness spa with the help of the nourishing pampering products. Then a couple of tea lights and gentle relaxation music with splashing water ...

Wellness evening with couple massage
Create a common Christmas playlist of our favorite Christmas carols
Christmas Songs Food Challenge: if you can list the Christmas delicacies that are mostly mentioned in Christmas songs, the loser cooks / buys the winner's favorite Christmas snack
"Christmas earlier": Today childhood memories are shared (maybe even with old Christmas photos or video recordings)
Recreation of the most beautiful childhood Christmas memories (decorating cookies, making Christmas decorations out of polymer clay or salt dough ...)
Repetition of the favorite childhood activity, such as playing with Legos, coloring, painting by numbers, puzzles or kneading super sophisticated clay figures
Game night with board games or strip poker
Make mulled wine or Lumumba yourself
"The Best Mulled Wine of the Year" - Extensive mulled wine taste testing at the Christmas market (also works with hot chocolate, of course)

Alternative for home: Get a selection of drinks and enjoy them at home. Optionally, you can also create an evaluation sheet. There is a large selection of mulled wine online e.g. at Foodist and there are many different drinking chocolates e.g. from HOTCHOCSPOON

Start your own Christmas tradition
Googling foreign Christmas traditions and try them out for yourself, such as the Norwegian Christmas dessert "Risalamande" or the American eggnog "Eggnog" (there are certainly a few cool traditions that have nothing to do with food, but we can look for them later)
Taste testing of American holiday beverages such as Eggnog, Hot Toddies & Spiked Cider
Christmas treats for dinner: joint shopping at the bakery / supermarket where all your favorite snacks can be bought and then eaten without regrets
Going to the cinema together (this year there will definitely be one or two nice Christmas films again)

Alternative for home: Stream Christmas movies and make your own popcorn & nachos

Joint theater / ballet visit, like maybe "The Nutcracker"

Alternative for home: Watch a nutcracker demonstration on DVD or access the nutcracker film "The Nutcracker and the Four Realms"

Fondue or chocolate fondue party for two
Feast for two. Menu ideas: favorite food, favorite childhood meal, dinner from the first date or a sushi evening (easy to implement, e.g. with the help of the sushi box from Reishunger, where all basic products + cooking utensils are delivered and you only buy the fresh ingredients have to)
Online shopping date: A present is bought for the partner, a present for children or parents and a present for both of us to share
Make Christmas gifts together for family & friends yourself, such as cookies, eggnog, spice oil, family photo or a board game (ready-made DIY kits help with handicrafts, such as the handicraft set for Mikado or Don't get annoyed)
Photo shoot for a Christmas card together (motive ideas: recreate an old Christmas photo from childhood, dress celebratively and pose with fairy lights, Christmas walk in the snow - there are at least a thousand other ideas on Pinterest)
Write Christmas cards together to family & friends (be inspired by my examples of Christmas greetings)
Gift wrapping party: wrap gifts together and listen to Christmas carols
"Buy a speed gift": a visit to the shopping center and everyone is given the task of buying a gift for 10 euros for the other within 10 minutes. The most creative gift wins!

Alternative for home: Online speed shopping ?!

Create a common Christmas bucket list and tick off at least 1 must-do
"Doing nothing & being lazy" day to prepare for the Christmas family stress: sleep in, stay in pajamas all day, order food instead of cooking, maybe move to the sofa and turn on Netflix (matching gift idea: Christmas couple pajamas or warm Cuddly socks for him & her)
Okay, the list of date ideas for the run-up to Christmas has been created - check, now I just have to decide on 24 Christmas activities and get started.
SAVE THIS MAIL FOR LATER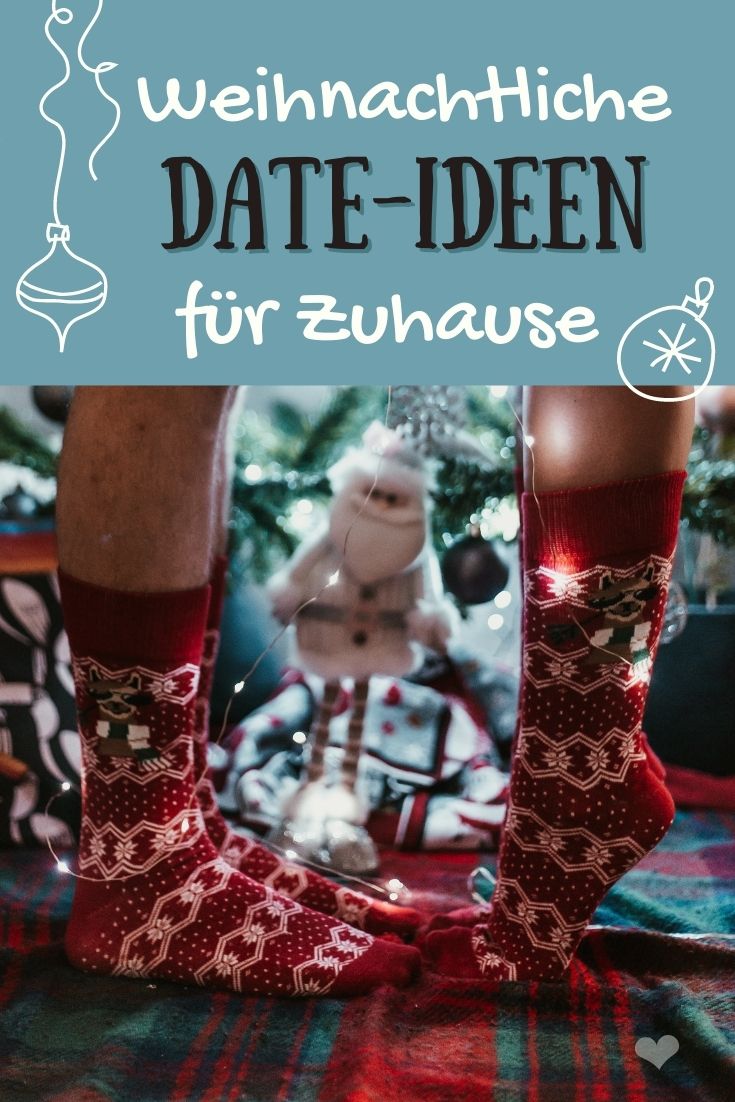 Pin my article to your Pinterest board so you can find it more easily later.
Remember on Pinterest »