Looking for fashion and travel bloggers
Do you have what it takes to be a travel blogger?
Dream beaches, foreign cultures, exciting adventures: travel bloggers have turned their passion into a profession, they travel around the world all year round and are paid for it. But can you make a living from it? And how hard is the job really? We'll tell you how to start your own travel blog and become a real travel blogger.
At some point it will be there, the day of the return flight. It is time to fly home, albeit with a heavy heart. Reality usually catches up with you at the gate of the airport. The roaring rumble of the engines lets you understand that the vacation is over and everyday life is calling. Now it's back to saving money for the next trip.
Most people are probably familiar with this rhythm of life: Working for the dream vacation. But why not turn the tables and earn money traveling? Does that sound like a dream job to you? Then a travel blog might be just the thing for you! As a travel blogger you turn your passion into a job, explore exotic places around the globe and let yourself be paid for your reports.
In order for your travel blog to get off to a flying start, however, there are a few things you should know in advance. Therefore we would like to address known questions such as: "What does a travel blogger actually do?""How do I finance my travel blog?" or "What costs should I expect?". Here we go!
Travel bloggers discover and experience a lot, but also work all the harder for it.
What does a travel blogger do?
As a travel blogger, you are constantly on the move to travel to distant countries and get to know life and cultures in the most diverse places in the world. However, you should not keep the experience you have gained in this process to yourself, but rather make it accessible to other people. That's why your travel experiences land on your blog.
With your reports you inform other travel enthusiasts on the one hand about superficial topics such as costs, sights or nightlife. On the other hand, on your travels you also look for stories independently, put fates, people or special places at the center of your stories and thus show your destinations from an individual perspective. That is exactly what people want to read and what makes them want to travel to a country.
Of course, you also reveal a lot about your own life through personal articles. Your readers want to know who you are and what matters to you in life - only then can they identify with you. That's why most travel blogs also have a section about how you became a travel blogger yourself. A nice example is the Pink Compass site.
The more readers and followers your blog has, the more money can be made with it, since with a larger sphere of influence, potentially more advertising partners can be brought on board. Be active on different platforms to maximize your readership - especially on Instagram, Pinterest and Facebook. Every travel blog started out small, and it takes time to build your own community. Patience is the key to making your travel blog a success. Important: don't do anything for money! Select what you would like to report on, which countries or topics you are interested in and thus also which collaborations you are going to enter into - only then is authenticity guaranteed.
How do I become a travel blogger?
Basically, of course, anyone can start a travel blog. You should definitely be willing to travel, open-minded and curious, but that goes without saying. But it also takes a lot of courage to give up your regular life and want to earn your money by traveling in the future. After all, as a freelance globetrotter, you forego the financial security that comes with it "Normal" Job offers. So don't necessarily quit overnight, but rather move gradually from the old life to the new.
Perseverance is also very important: You have to act as a travel blogger"on the market" first prove and show what passion lies dormant in you. Only then will readers take you seriously and show genuine interest. Not to mention cooperation partners - you will only find them above a certain range.
In fact, running a travel blog is a lot of work and requires a few skills that you may need to acquire. What about your editorial skills, for example, can you write engaging and appealing texts? Do you already have a blog or does it have to be set up first? Can you take photos or edit videos? These are some of the things that determine the success of a travel blog. Basic knowledge is a prerequisite, everything else is to a certain extent also learning by doing.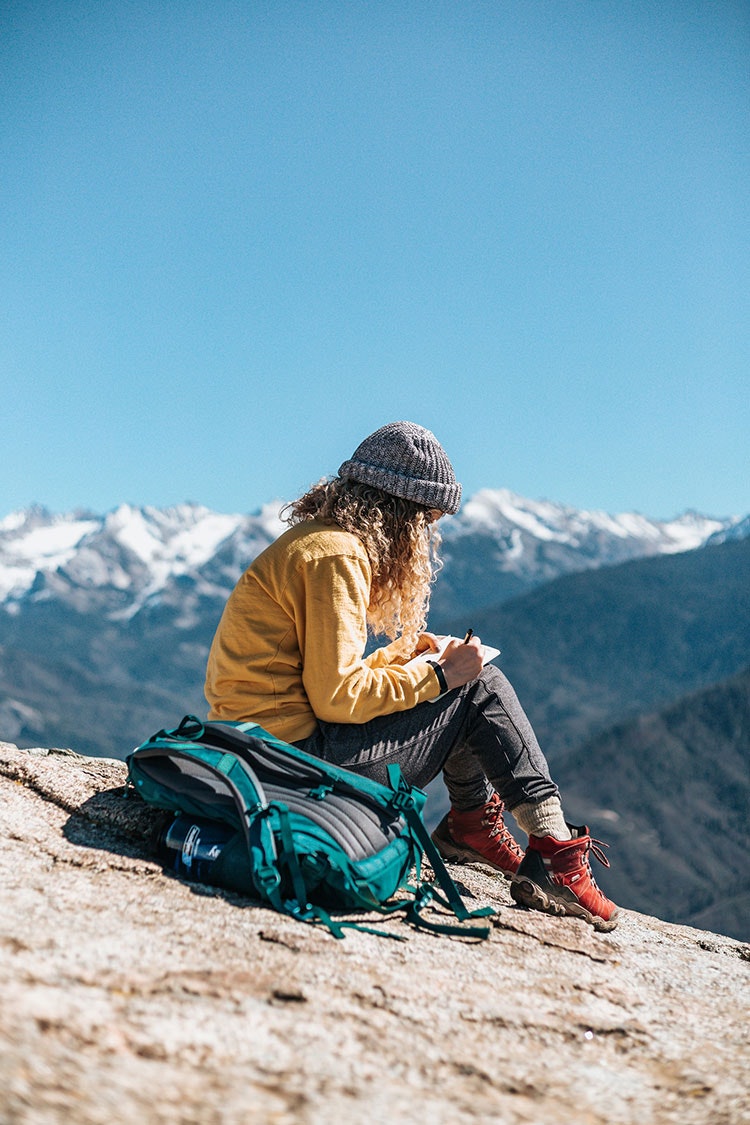 If you want to run your own travel blog, you need one thing above all: perseverance.
What costs should I expect?
How much money you spend per month depends on the one hand on your needs and on the other hand, of course, on the country or city you are visiting. In Bali you can get accommodation right on the dream beach for a few euros, whereas you almost have to take out a loan for a beer in Sweden. But the equipment for the travel blog also has to be paid for, of course. We have collected for you which cost factors (regardless of possible collaborations) you have to deal with:
Arrival and mobility on site
In most cases, the tickets for the flight, your flights and local transport are the most expensive on the trip. However, websites like Skyscanner or momondo will always help you to find the cheapest offer. Public transport is an option within a country. Bus and train usually take you to the most remote places for little money.
Live authentically
11 tips for booking a cheap hotel
The choice of accommodation depends not only on your wallet, but also on what you want to embody as a travel blogger. If you want to show your readers how to tour Vietnam on a low budget, it is of course inappropriate to stay in a star hotel. So stay authentic and travel the way you normally would - after all, readers are interested in your personal travel style. Don't just keep an eye on hotels and hostels, but also think of apartment pocketbooks, couch surfing or AirBnb!
Your figurehead
With WordPress, for example, the costs for your own blog and the associated web space are very low. There are standard templates here too, which you can simply select, but you should opt for a more individual solution. Finally, this also prevents the risk of confusion with other travel bloggers.
With a little research you will find numerous platforms and shops, such as Elmastudio, through which you can get a nice layout in no time and without great programming skills. Otherwise there is sure to be someone in your circle of acquaintances who conjures up something very special for you at a friendship price.
More than just snapshots
Photography correctly: basic knowledge and tips for beginners
Exciting holiday photos not only make your travel blog look better, they also give readers the feeling of being there live during the trip. Smartphone cameras are getting better and better, but the breathtaking sunrise in the mountains looks better with a sensible compact or system camera. There are no upper price limits, but for € 500 you can find a decent model from Nikon, Canon or Sony that does not require you to complete a degree in camera technology.
Your workplace
You will definitely need a computer to write new content, upload blog entries and edit image and video material. A laptop is a good idea, as you should of course be absolutely flexible in terms of space. Depending on the requirements, a good notebook costs between € 500 and € 800. You can get photo editing software like Adobe Lightroom for as little as € 12 a month "rent"to give your photos the finishing touch. Incidentally, crash courses on this are given online and at various VHS.
Certainly one of the most important things: the right equipment for your travels
Financing - How do I make money as a travel blogger?
Slow and steady wins the race
Even as an adventurous free spirit, you will at some point come to the point where your savings are almost used up and the rose-colored travel glasses start to crack. Successful travel blogs thrive on testimonials and of course every trip costs money. So you have to think about how you finance your lifestyle so that the world tour continues. The safety net of one "Normal" For you as a globetrotter, jobs with a fixed income are a thing of the past; after all, you've traded security for freedom - flexibility is the order of the day!
The success of a travel blogger doesn't come overnight and it usually takes years before you can live on your income. This can be frustrating, especially in the beginning - a travel blog is a job too, with its ups and downs, but perseverance pays off in the end! Nobody knows you at the beginning and building a loyal readership takes time.
Even for successful travel bloggers like Sebastian Canaves from off-the-path.com, the path was no picnic. Today his site has 50,000 visitors a month and he can make a living from it, but it took a few years before that happened. Conni Biesalski from planetbackpack.de, which is one of the most successful German travel blogs with 235,000 visitors a month, describes similar start-up difficulties.
Get advertising partners on board!
Meanwhile, numerous travel blogs are vying for the favor of readers and sponsors, so that it is becoming more and more difficult to stand out from the crowd. However, advertising partners and companies - i.e. your future financiers - are only willing to cooperate with you if a profit can be made. The more people read your travel blog, follow you on Facebook, Instagram & Co and recommend your site, the more attractive you will be for advertising partners.
However, most companies won't just come up to you and offer you advertising contracts. Rather, you have to contact cooperation partners and advertise your blog - nothing is given to you. Search for business partners that fit your side: backpack manufacturers, platforms for accommodation, travel insurance, outfitters for hiking tours, producers of travel gadgets.
If that goes well, you can over Affiliate links Earn money. Affiliate links are embedded in the articles and, after clicking on the link, direct you to the corresponding product of the advertising partner. If a product is then bought, you will receive a commission. It is important that you always mark advertising as such. Otherwise, the readership will feel misled and the trust built will be gone.
Books and articles
Kindle Lending Library: This is how online lending works at Amazon
Of course, when you're writing, you're not locked into your own travel blog. Especially in the early days, many travel bloggers write parallel texts for other companies and magazines. If you write articles for different magazines or websites, more and more readers will notice you and your travel blog. Again and again you can see that travel bloggers are friends and leave articles on each other's side. The publicity can only be good for you.
Writing books in particular has emerged as a trend among travel bloggers. Mostly it's about how you gave up your old life and became a thoroughbred traveler. A book gives you enough space to write down your experiences. You can provide interested readers with tips and tricks that will help them take the step to become a travel blogger. The income is significantly higher than with affiliate marketing. However, of course, not everyone is able to simply write a complete book on the side. But if it makes sense and you have enough to tell, why not give it a try? The effort to bring an e-book to market is really not high.
Seminars and tutorials
Lots of people would like to take the plunge, change their lifestyle, try something new. But most of the time you don't know how and you need a little help starting over. That's where you come in. With your experience as a travel blogger, you can show people all over the world how to do it right. Whether it is about the financing