Because if we are not aware of what our personal strengths are, then we are constantly looking outside: sometimes admiring, sometimes jealous, but always focused on what we are NOT!
Every human is unique
Every person is unique! Literally! In the word Einzig-ART-ig is the term "art" - the art! In this sense, the vocation is actually just the ART OF BEING MYSELF! To be authentic!
But how do I find out how and with what I am unique, how I can be myself? In vocational counseling you look at the entire personality of the person. For example, there is your nature, the way you approach other people.
Perhaps you are more of a calm person, but compare yourself to impulsive entertainers? But you will never be one!
But have you ever considered, for example, which strengths might lie in your calm manner? Do you imagine an entertainer as a doctor or a psychologist or a wellness therapist? How valued or taken seriously would the patients feel? Quiet people are often particularly sensitive and intuitive and, as the "cogs" of a large corporation, have no way of expressing their sensitivity. They constantly feel in the wrong place or just bad when they have to act against their inner impulses again because their talents cannot be heard at this job. Therefore, it really helps you further if you are aware of your personal SELF-KIND and choose a calling where you make EXACTLY this being your strength instead of bending over to be like the others.
So definitely stop comparing yourself to others. Stay with you! Recognize the advantages of your personal characteristics and individual characteristics. Recognize your uniqueness! Give yourself the appreciation you have long deserved! Be proud of yourself!
Step 5: What is your life's work?
Doing something meaningful is the next step that brings us to a fulfilled life and thus to our calling. Because at some point in life everyone will ask themselves the classic questions of meaning: What am I here for? What is the meaning of my life? What do I want to achieve in my life? What do I want to leave behind?
The soul is our inner authority that motivates us to answer these questions! And after a certain age, such thoughts come to us more and more often. We question what we do, how we live, and often we even doubt our partnership and our relationships.
Eva Maria Zurhorst wrote her famous book entitled "Love yourself and it doesn't matter who you marry!" This applies 100 percent to the calling!
As soon as we have found THAT what lies dormant deep within us, what fulfills us and makes us happy, what we want to do and want to move in the world, our soul starts to sing! And enormous forces are released in us, we feel the luck to finally do what we always wanted to do.
Because one of the most beautiful things that a person can say about his life is the sentence: "I AM FULFILLED!" "Not just satisfied, not just happy (because you can't always be), but simply fulfilled! Filled with who I am, what I can and what I want to do.
And then one day, when you have found your calling, your happiness in life, you will be able to say: "I love my life and myself with my talents and gifts, but also with my quirks and my idiosyncrasy to be. I love myself for what motivates me wholeheartedly and I am happy to be myself, just as I am! "
You can find further details on finding an appointment here.
This article was created at the suggestion of Ursula Maria Lang, career counselor and coach. Ursula Maria Lang developed her holistic method of career counseling in 2002 and has been training career counselors in Germany, Austria and Switzerland since 2009. She lives with her daughter on the Ammersee near Munich.
donation
Your donation helps us
If you enjoyed this article, we would appreciate a small contribution to our work! Donate now with Paypal.
display
Distance training to become a holistic nutritionist
Are you interested in what's in our food and want to know how nutrients and vital substances affect the body? Do you want a healthy life for yourself, your family and fellow human beings? Nutritionists are popular - but the holistic aspect that is needed for sustainable health is often forgotten when giving advice. At the Academy of Naturopathy, you will get to know the connections between lifestyle and diet as well as physical and psychological well-being.
That educates interested people like you in around 16 months to become a holistic nutritionist out.
Is this article worth reading?
Share this article
Notice on health issues
This information is passed to the best of my knowledge and belief. They are intended exclusively for those interested and for further training and are in no way to be understood as diagnostic or therapeutic instructions. We do not assume any liability for damages of any kind that arise directly or indirectly from the use of the information. If you suspect illness, please consult your doctor or alternative practitioner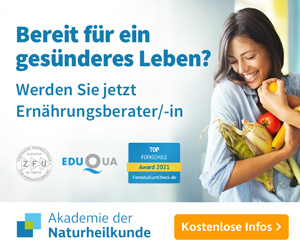 Subscribe to Newsletter
Exciting information about health and nutrition
1x per month
Login Successful. You will shortly receive a confirmation at the specified email address.
With your registration you allow the regular sending of the newsletter and accept the data protection regulations.
HEALTH CENTER © 2021 Neosmart Consulting AG. All rights reserved.