What can I cook with a kettle
Cooking with the kettle - 7 little tips
September 26, 2017 Josy
---
Who doesn't like going on (camping) vacation? And would you like to enjoy delicious warm food at the same time? It is wonderful to sit together in the open air after a day in nature and enjoy! For campers who camp with their own equipment or who do not have a fully equipped kitchen in their (rental) caravan, there are a few options:
a) Pack a one-, two- or, better, four-burner gas stove or cooker, or come to the communal kitchen of the square every evening ...
b) Eating out every day - does the vacation budget support that?
c) Or simply book a parking space with a sufficiently resilient power connection and take a kettle with you ... and nothing else!
With the kettle you can do much more than heat water for tea and coffee infusions. With a few tricks you can prepare healthy and fresh food - almost as easy as at home on an electric or induction stove. The fact that there is no stove in your (rental) tent is no longer an "excuse" from now on ... Please take into account the safety regulations and the operating instructions for the kettle. Also check whether your power connection is sufficiently resilient. If necessary, ask briefly at reception.
Tip: If it is not allowed to boil anything other than water in your cooker, you can also blanch - or "permanent blanch". To do this, put the food to be cooked in a separate saucepan and keep the heat loss low with a lid. A towel around the pot can also protect against too much heat. In addition, they ensure temperatures close to the boiling point by often pouring off the slightly cooled water from the pot and topping it up with hot water from the kettle. Then the pasta will usually be quite "al dente". But it works too!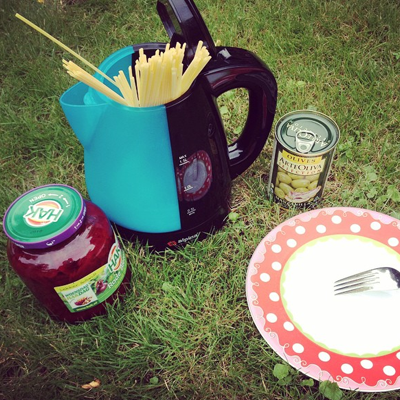 1. Eggs
Eggs for the delicious camping breakfast could be placed in the water-filled cooker. Bring the water to a boil and leave the eggs in it when the appliance has switched off. Temperatures of 80 to 90 degrees are sufficient for the eggs to be soft-boiled after around three minutes. If you prefer it hard, you can leave it in the kettle for a good five minutes. Then pour off the water, pull the plug and carefully remove the hot eggs and rinse with cold water. Does your family prefer fried eggs? Then only the hood of your car, which is hot thanks to the sun, will help ...
2. Pasta
In some kettles you can even cook pasta - for example in the models that do not have a heating coil at the bottom, but a heating plate. Guests who plan to do this take about 100 grams of pasta per liter of water. When the water boils and the thermostat switches off automatically, the pasta is left in it for another 6 to 10 minutes (depending on the size, thickness and the information on the package). Salt, olive oil or other additives to the cooking water should best be added on the plate. In this way you protect the inside of the kettle and avoid contamination.
3. Vegetables
Being able to cook pasta is half the (culinary) rent - not just for the children or on vacation in Italy. But maybe there should also be something healthy. Vegetables in particular that have short cooking times can be boiled in the kettle. These include carrots, kohlrabi and pre-cooked (or, alternatively, very small and thinly sliced) potatoes.
4. Couscous
Couscous can be poured with hot water in a separate bowl. Let the whole thing swell properly, add fresh vegetables or salad - and the light, Mediterranean camping menu is ready!
5. Instant meals
It's not as nice as you cooked it yourself. But sometimes it also tastes good: "five-minute terrine" and similar ready-made stews and soups that are simply poured over with hot water. Also suitable for those who would rather not put anything other than H2O into the kettle ... Just as simple: The good old tin of ravioli and other canned dishes ... It can be warmed up in a water bath (please open beforehand so that you don't get your fingers caught when opening it later burns or hot sauce squirts out due to overpressure).
6. Freeze-dried meals
It's a bit like astronaut catering in the space station. But some extreme and outdoor athletes swear by it - a complete meal in a small, freeze-dried package. Often only hot water needs to be filled into the bag. After around ten minutes, the powder turns into spicy chili con carne or chicken curry ...
7. Warm up meals
This makes sense especially on camping weekends and short stays: Simply pre-cook your favorite dish and warm it up in a heat-resistant container that is open at the top in a water bath. If you don't have a pot with you and the kettle is not suitable for use as a water bath: If necessary, you can pour a little hot water over the pre-cooked goulash or something similar. The sauce will then be a little thinner. But at least dinner is a little warm ...
Basically: Please never heat closed containers in a saucepan with hot water or in the stove itself. Plastic containers or dishes in foil burst open and glasses can shatter explosively. That can literally be eye-catching! Especially after an adventurous and exuberant day of camping, you may not pay attention to these basic things as you would at home. Especially if one or the other beer or wine has been decapitated ...
But I'm sure you can do it! Have fun experimenting and delicious and simple cooking on the campsite!
Blog topics: tips, eating and drinking, on the go, camping