What if Adam and Eve were gay?
Gay Cops - The Fear of Outing
August 5, 2018, 2:00 am
7 days Ö1
Audio images - homosexual police officers in Austria
The Vorarlberg police officer Josef Hosp - at that time still an investigator in the customs investigation - openly confessed to his homosexuality at his office in 1991. Back then, the World Health Organization still viewed same-sex love as a disease. His outing has consequences: some colleagues no longer even shake hands, others refuse to do field work with him. The hostility weighs so heavily on Josef Hosp that he wants to take his own life. A cleaner stops him at the last second from shooting himself with the service weapon.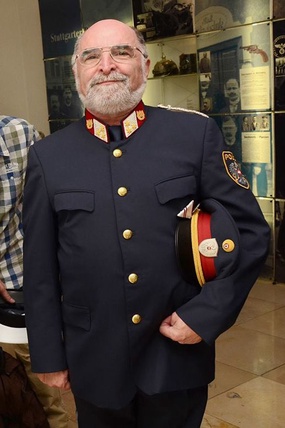 GAY COPS AUSTRIA
The majority want to remain anonymous
Today the 58-year-old Vorarlberg district inspector is partnered with his husband Günther and he is chairman of the "Gay Cops Austria". The association was founded in 2007 by a group of homosexual police officers. He sees himself as the first point of contact for gay, lesbian and transgender law enforcement officers and wants to break down prejudices within the police. Around 280 members belong to the "Gay Cops Austria". But the majority want to remain anonymous. Only 62 police officers are open to their way of life.
Homosexuality is officially no longer a taboo in the police force. But many law enforcement officials are still afraid of coming out in the male-dominated profession. "Many fear that coming out will lead to a career kink, that they will be disadvantaged by their colleagues and seen as something special, in a negative sense," says Hosp.
Fear of bullying and marginalization
One person who has such fears is Jakob * in his mid-30s, who wants to remain anonymous. He is a district inspector in Vienna. Disparaging remarks about homosexuals prevent him from sticking to his way of life. "When you hear from colleagues: 'There are only men and women, Adam and Eve and everything else is sick', or when statements like: 'All the gays can be happy that we have 2016 because 1944 would be there the right person has been there for you, 'one naturally wants to make it even less public at the office. " For fear of bullying and marginalization, the patrol officer has perfected lying. For years he has led a double life that also broke his last relationship with a man.
Fifty years ago it would have been unthinkable to come out as a homosexual, bisexual or transsexual police officer in the guard room. Homosexuality was banned in Austria until 1971 and was punished with up to five years in prison. It was not until 2002 that the last criminal paragraph was passed, with which same-sex love could be punished. He stipulated a minimum age of 18 years for gay relationships. "It was only when homosexuals were completely removed from the crime scene and the police were no longer instrumentalized by the state to persecute gays and lesbians that it was only possible for police officers to admit their homosexuality," says Helmut Graupner, President of the Legal committee Lambda and one of the obstetricians of the "GayCopsAustria".
The outing takes some effort
For the group inspector Alois Krabb from St. Johann im Pongau, the suffering became too great at some point. When he came out at the age of 34, he already had a wife and child. "Everyone knows you, you have a family, you are a police officer, so anyone who is halfway through can imagine how great the conquest was." To this day he is the only self-confessed homosexual police officer in Salzburg. He never had any problems in his office. "His secret is perhaps his personality, because he is not apparently gay, you can not tell from him. He provides his husband," says his superior Günter Lechner.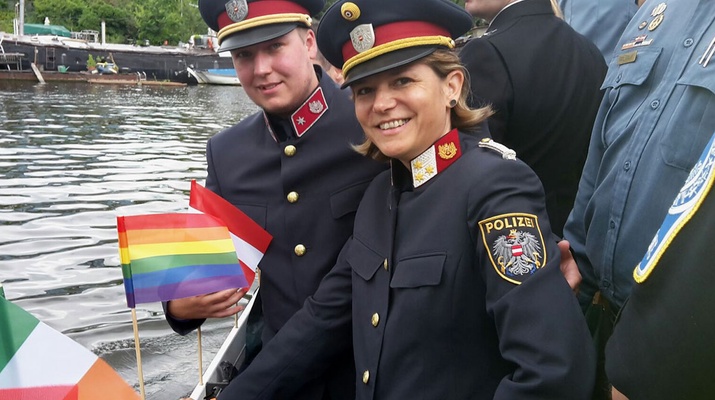 Christina Gabriel and Marek Wimberger in Amsterdam at EuroPride, 2016
GAY COPS AUSTRIA
Around half of the "GayCopsAustria" are women
Christina Gabriel is deputy chairwoman of the association and district inspector at the Vienna State Criminal Police Office. For years she kept her relationship with a woman a secret. As one of the first female police officers in Vienna, it was difficult enough at the time. "When I came to the police in 1992, there were lists of signatures so that no women came into the guard room. All male colleagues signed with the reason: we will not make any extra toilets for women." In 2008 she decided to come out on business and had mostly positive experiences with it. "It's easier as a lesbian woman with the police. You are not viewed with such skepticism by your colleagues, also because lesbian women are more socially accepted than gay men. Two women kissing, you can imagine that, but two men, for many, that doesn't work at all. "
At the border post, in the patrol car and at the police station, the gay cops talk about their experiences with homophobia at work, their coming-outs and the successes of their club, which is celebrating its tenth anniversary this year.
* Name changed by the editor
Text and design of the program: Elisabeth Semrad
service
GayCopsAustria

Lambda Legal Committee

Vienna Anti-Discrimination Agency

1st Lesbian and Gay Association of Austria

Rainbow ball

Rainbow parade

Pink Cops Switzerland

Association of lesbian and gay police officers in Germany

European Gay Police Association

service
This award-winning feature will be broadcast again on Saturday, August 4, 2018, as part of "Hörbilder" from 9:05 am on Ö1