Who has a great social media strategy
21 elements to complete your social media strategy
Do you want to improve your social media strategy?
If you haven't been getting the results you want until now, there is definitely a good reason for it.
There are a few critical elements that should not be missing from any social media strategy. Without these 21 elements, your strategy could fail.
In this article, I'll explain exactly what you need to do to make your next campaign a complete success.
Here we go!
1. Find great ideas
If you are like most marketers, then you have developed your strategy according to the needs of your target group.
You need to find content that has already become a viral sensation and build your own content around those topics.
I personally use Quora. You can search for articles from your own industry.
You have to find questions that have been asked a lot and got a lot of up-votes. You can also take a look at the FAQ page. You then have to answer these questions, because this content does well on social media.
Look for topics that all have questions in common. You have to find questions that you can safely answer.
Check out the answers to each question, then write your own answer on social media.
If an article has been particularly well received, you can write a similar article about your company.
2. Promote content on different platforms
Each social platform has its own characteristics and addresses different users.
In order to be fair to all users, you need to customize your messages on all platforms.
Let's take a blog post by Zapier as an example. The posts on Twitter and Facebook for the same post look different.
You can customize your content as follows:
Facebook: Write a short message about the content and provide a link. Facebook imports the data automatically and makes it available in your post.
Twitter: Compose a short message and use hashtags that go with the topic. Provide a link here too, this will be shortened to a t.co URL and use an image (if possible).
Instagram: Write a description of the article and use multiple hashtags. Use a filter and crop the image accordingly.
Pinterest: Add a text overlay to the image and write a brief description of the content.
3. Use the Facebook Messenger
The latest trend in social media marketing is a robot that communicates with customers and fans in Facebook Messenger.
Messaging apps have even had more users than social networks since 2015, and the trend is rising.
As technological developments advance, this trend will certainly spread to other platforms.
You can create an advertisement. You can then play these out and send fans to your messenger or you can place an ad in the messenger.
If this strategy fits your company, you shouldn't waste any time!
4. Find out which platforms are right for your company
If you've been on social media for a long time, you probably already know the best platforms for your content.
But if you don't yet know which platforms are best for your company and you don't tailor your content to the different platforms, you are wasting your valuable time.
You need to find out which platforms are sending the most traffic to your website. You can use Social Crawlytics for this.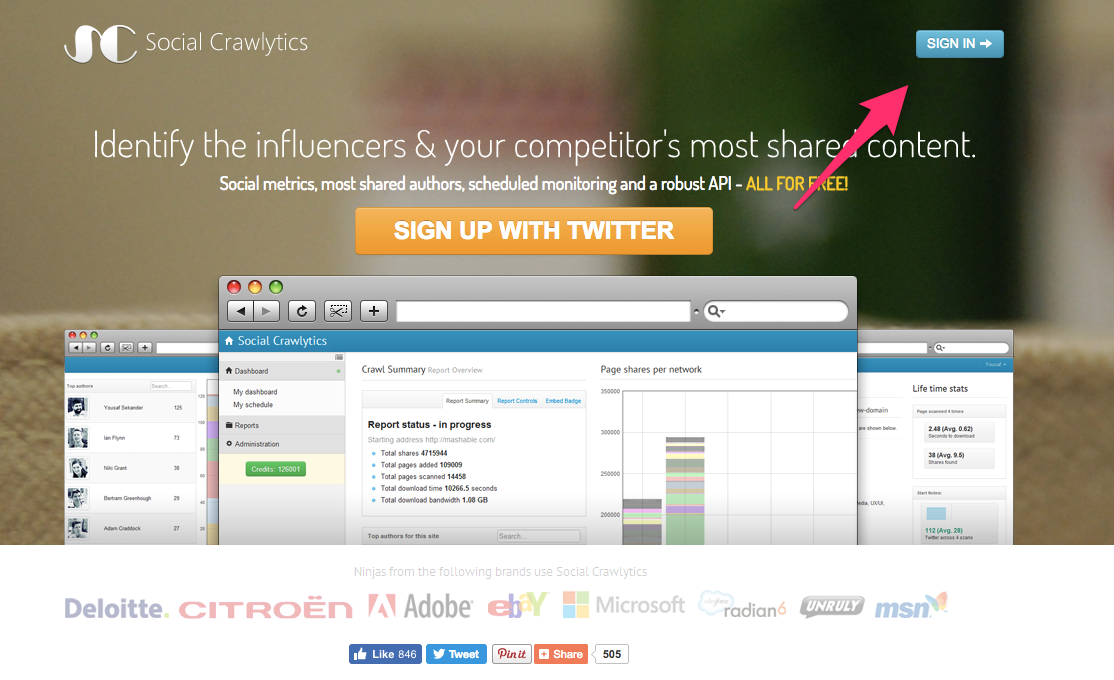 You can link the program to your Twitter account and then select the pages to be checked.
This is how you can find out where your traffic is coming from. You can also see which platforms are particularly popular with your content.
Once you've figured out which platforms are best for your business, you can focus solely on these networks.
5. Submit work
It is very difficult to get traffic through social networks. It is common knowledge.
And if, on top of that, you are not very familiar with this profession, it will also cost you a lot of time.
Every hour you spend on content marketing and targeting on social media is worth cash.
You can also just outsource some of these basic social media marketing related tasks.
First find out what costs you a lot of time and what you don't like to do at all. Estimate how much time you invest in these tasks each day. If you have an employee who deals exclusively with social media, he or she should also give an opinion.
Next, you need to calculate your hourly wage.
Last but not least, you have to find an agency or a freelancer who can do the work for you. Because these people are often all about social media, they can get the job done faster and often don't cost that much money.
Upwork is a great platform where you can find good freelancers at affordable prices.
You can save a lot of time and money by giving some work to an experienced freelancer.
6. Conduct a customer survey
If you want to address your customers as efficiently as possible, you have to know their needs.
You can find out about this in different ways.
You can simply send a message to your fans and email recipients. Ask them what problems they are struggling with the most.
Derek Halpern says that you can use this approach to improve your content marketing strategy. And it works for social media too.
Entrepreneur Sean Ogle built his entire strategy through questions, sent to new email subscribers.
You can also create an in-depth survey using Google Forms or SurveyMonkey. Such a survey is more complex, but also provides more detailed answers.
6. Create customer profiles
If you don't have a buyer persona yet, you don't know what you're missing out on.
You can find out certain characteristics of your readers in order to be able to address your target group even better.
You can first check the demographics of your fans on Facebook. To do this, go to Facebook Insights.
Click on "People" in the menu on the left.
Now you can see the demographics of your fans.
You can compile a profile from this data. You can use Keynote or PowerPoint for this.
You should also add a photo to get a better idea of ​​your ideal client.
In addition, you should write down the challenges, goals and problems of your ideal customer.
You can then use this data to run better campaigns on social media.
7. Share the best content more often
I am an advocate of the Pareto principle: It says that 80% of the results are achieved with 20% of the total effort.
Still, very few marketers resort to this principle. They continue to work tirelessly on all content, whether it works or not.
I am so successful because I extensively test each of my strategies.
First, take a look at your aging campaigns. You can use Twitter Analytics to find out what topics to focus on in the future.
You can quickly see which of your tweets are best received by the audience. You can also find your most active followers.
Look out for recognizable patterns and watch out for followers recommended by Twitter to refine your strategy.
If case studies are particularly popular, you can find and share more case studies.
If your most loyal fan is interested in a certain topic, you can contact other users and ask them whether they would also be interested in this topic.
You should review your results on Twitter every month and then make improvements to your social media campaigns.
8. Share old evergreen content again
Your content isn't history right away, but a lot of marketers think so.
You can quickly revise old posts and then repost them on social media.
If your fan base grows, there is bound to be one or the other user who has not yet seen your older posts.
You can use this strategy to get new readers. In addition, it's much easier to revise old content than to write new content!
First, go to your old articles. In WordPress you can sort them by date.

You need to find posts that were published over six months ago. Now you have to revise these posts briefly and, if necessary, add new screenshots or images.
When the revision is finished, you have to click on "Edit" next to "Published on".
You can enter a new date. Now click on "OK" and then on "Update".
Now the post will be published again.
You can share it on social media again, but be sure to mention that this is a revised article so as not to confuse your fans.
9. Live videos
The fastest growing segment of social media is live video. According to Facebook, viewers stay 3 times longer with a live video than with a normal video.
The current algorithm from Facebook places live videos at the top of your fans' news feed.
You can advertise your company with a live video.
Most of the live videos on Facebook have a theme. Here are the most popular topics:
The live stream of an event.If you are giving a presentation or attending a conference, you should broadcast the event live. In this way, your fans can also take part in the event.
Question and answer session. Thanks to Facebook Live you can exchange ideas with your fans in real time and answer burning questions.
Give advice or make suggestions. If you have good advice, make a live video to share your experience with your fans. You can explain your idea and respond immediately to audience questions.
10. Optimize your profiles
Most people set up their profiles once and then forget about them.
However, these profiles represent the online presence of your company or your personal brand.
A bad or outdated profile can put off potential customers, so make sure you update your information regularly.
You can test different approaches. Here are a few changes you should make:
The profile picture: You should use a professional picture and look straight into the camera.
The cover picture (if appropriate): Use a cover photo that reflects your personality. You can use a picture that shows you doing one of your favorite activities.
The description. The description should be short and sweet. Add some interesting information to get users' attention.
11. Create an editorial calendar
One of the biggest challenges almost every marketer faces is releasing new content on a regular basis.
Minds argue when it comes to how often to share new posts in order to get good results. However, it is important to publish new articles at regular intervals.
You can share two or twenty new posts a day, the important thing is that you keep an editorial calendar. You have to set deadlines and assign the contributions to the right employee.
Trello is a great program if you want to plan and manage an editorial calendar. You can also share the calendar with your team.
This example is from Trello's website. It shows different articles in different phases of the development process.
Sounds easy enough, but this strategy makes a big difference in the end. If you put your social media strategy in writing, you can get better results.
And if you execute your strategy conscientiously, you can reap the well-deserved fruits of your hard work.
12. Use hashtags
Hashtags have been around for a long time and they are sure to stay with us.
Hashtags work better on some platforms than others, but you can use them in any of your posts.
You should do some research to find the best hashtags for your article.
You can use Hashtagify for this. The program shows a visual representation of the best hashtags.
If you run a jewelry store on Etsy, you can find the best hashtags for the term #etsyjewelry.
You can click on any of these terms to find more hashtags.
13. Share pictures of your employees and scenes behind the scenes
Every company has its own personality.
Most people want to get to know your company. This is exactly why you should occasionally share photos and scenes behind the scenes.
You can publish the group photo of the last company outing, take a photo of your office or share funny stories from your lunch break.
The social media management software Buffer shares interesting pictures on their Facebook page.
Be easy-going, friendly, and honest. Your fans will notice immediately when you lie. So always be honest and don't fool your fans under any circumstances.
You can also share videos of your employees if they are good at explaining a certain aspect of your company.
14. Share the best content from other sources
If you only ever share your own content, your fans will quickly get fed up.
Instead, you should also occasionally share content from other sources. You can follow other sites to find great content.
You can use Feedly for this. Click on "Get Started for Free".
You can log in with one of your social accounts.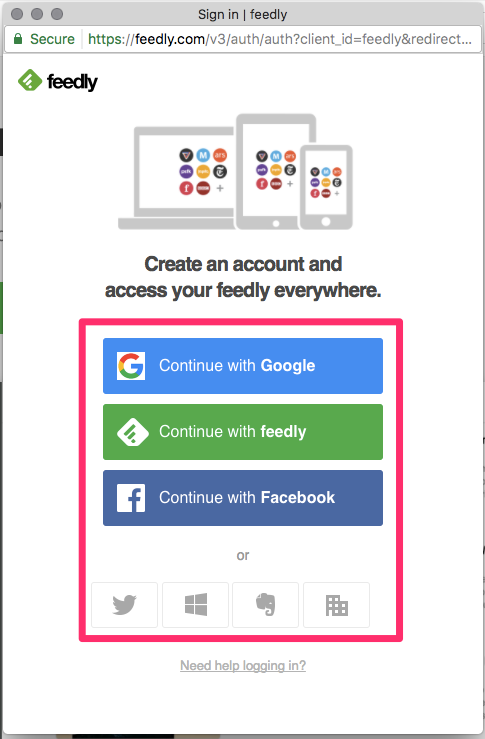 Now you have to choose the topics or sources that you are interested in. You will then receive new content.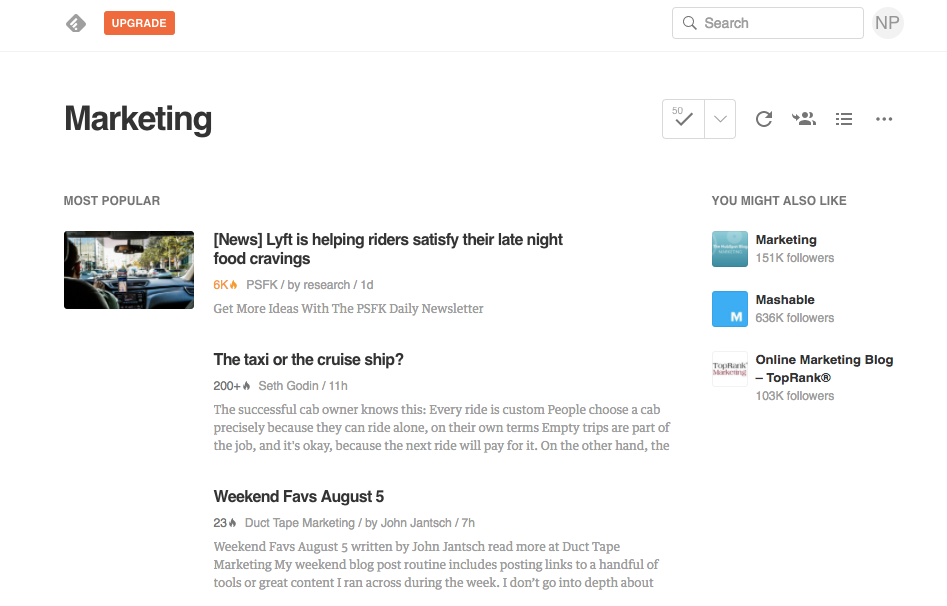 If you use Buffer, you can program interesting content immediately and share it later.
This way you can share lots of helpful resources and build great relationships with other companies.
15. Find the right timing
I've already written an article on the best timing to post on social media.
To find the best time for your business, you have to test different times.
You can use Tweriod to find the best time on Twitter.
You can then follow the suggested times and plan important updates with Buffer.
You can use this simple strategy to improve the effectiveness of your posts.
This is especially helpful if you don't have that much time to deal with social media anyway.
16. Organize competitions
You can quickly win a lot of new fans with a competition.
But you should never buy fans because it harms your company.
However, if you are willing to invest a little time and money, with a little creativity you can win a lot of new fans.
You should give away one of your own products in order to be able to use this strategy as efficiently as possible.
If you offer a digital product, you do not have to bear any delivery costs.
You can also choose to have an official brand ambassador chosen. Dove did it that way. Here is the "Real beauty should be shared" campaign:
You can give away a free month (or annual subscription) of your software. You can also give out coupons for a book or course.
If you are offering a physical product, you will have to organize the shipping and pay the shipping costs.
17. Offer "open office hours" to exchange ideas with your fans
If you like to stand in front of the camera and want to help your fans, you should regularly offer "open office hours" to exchange ideas with your fans.
You can choose one day of the week (or a fixed time for each work day) to make a live video for your fans.
Live video is best, but you can also use Twitter Chats or Reddit Ask Me Anything (AMA) if you prefer.
Blogger Steve Aitchison has won millions of fans on Facebook with this strategy.
He hosts a live stream every day and answers questions from his fans or talks about his latest article.
18. Make special offers
Brands often share coupons and discounts on social media. This strategy works very well.
If you run an ecommerce site, you need to give your fans a good reason to follow your business. And what could be better than a great special offer?
You can create discount codes and then share them on Facebook and Twitter, just like Diamond Candles with the Independence Day sale.
If you have a great special offer, be sure to post it on social media first.
You should also mention on your Facebook page that you regularly share new specials and give away discounts.
In this way you can develop your relationship with existing fans and gain new fans.
19. Share interesting pictures
Avoid using stock photos on social media.
The users immediately recognize if your picture is a purchased photo from a database.
What your photos lack in professionalism, you can make up for with authenticity. You should take photos yourself.
It's-It Ice Cream has a Facebook page full of photos of employees. This gives the brand a certain honesty and builds trust.
If you can't do without stock photos, you need to find images that are particularly appealing and fit your brand.
It doesn't necessarily have to be a photo. You can use Canva to create great graphics to use on your bog.
20. Give your brand its own voice
Each brand should have its own voice that can be broadcast on social media.
Airlines are skilfully implementing this strategy.
Most airlines focus primarily on business customers and are more formal, but Southwest Airlines is friendly and open.
If you haven't found your brand voice yet, you should get down to business now.
Your voice has to be consistent and shouldn't vary from employee to employee. You have to find a style that suits your target audience.
You can write down the characteristics of your brand and then share them with your entire social media team.
21. Address related niches
No matter how interesting your industry is, you can find many more customers outside of your own niche.
If you only concentrate on content that appeals to your inner circle of fans, you will certainly find it difficult to inspire new fans for your offer.
You can fix this problem by expanding your content and trying something new.
The following article by Folgers Coffee does not only appeal to coffee drinkers. The photo shows a robot made from recycled Folgers cans.
This post also appeals to fans interested in antique cans or recycling.
These fans could share the post with their friends and thus bring new customers to the company.
If you also target your posts to other industries, you can expand your reach and make your social media strategy even more effective.
Conclusion
If your social media strategy is ineffective, you'll need to adjust it.
You can compare your own strategy with the examples from this article.
Are you addressing the right target group, do you understand their needs and do you test your campaigns extensively?
With the right strategies, you can generate more traffic and attract more customers on social media.
What approaches do you want to use to improve your social media strategy?