Blackboard Learn
Learning Management System (LMS) - Creation and administration of web-based learning environments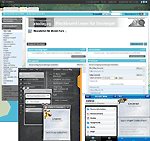 Blackboard Learn is a proprietary learning management system that can help educational institutions and educators create an online learning environment. Among other things, it offers the following functions:
Asynchronous and synchronous communication methods
Provision of learning materials
Definition of various roles such as guest, observer, participant, etc.
Integration of Web 2.0 tools
Creation of tests
Evaluation functions
calendar
Course management system
A large number of setting options are offered.
Your own teaching content can be expanded with the modules provided, for example by integrating a suitable YouTube channel into the course.
Blackboard Learn can also be accessed via Android, Blackberry, iPad, iPhone, iPod touch or Palm. This is summarized under the heading "Blackboard Mobile" and implemented with the help of a "Learn App".
With a click on the slaughter area "CC" (closed captioning) the currently spoken text is visualized in all video tutorials.
Blackboard Collaborate for synchronous video conference communication (similar to Adobe Connect) is already included in Blackboard Learn. On CourseSites, Collaborate is enabled using either the CourseSites Live or Live Classroom options.
There is the possibility of linking to social networks, e.g. B. Facebook, Twitter, Yahoo! Etc.
External help on Blackboard Learn (video tutorials, PDF files and help websites) is usually provided in English (see also the information under "Tutorials"). A very limited amount of help is available in German on the CourseSites websites; Otherwise, you will be redirected to the English-language Blackboard Learn help pages.
Despite the tidy design, the large number of available features and setting options as well as the navigation via tabs make quick orientation difficult at the beginning.
The German-language edition of the Blackboard implementation on CourseSites still seems to be slightly buggy, as umlauts can sometimes not be displayed on personal homepages within the LMS.
With CourseSites, the manufacturer offers the free opportunity to get a first impression of the technology (see its terms of use as a PDF file). The service is available at https://de.coursesites.com and implemented with Blackboard Learn 9.1. Up to five courses with a maximum of 500MB content each can be created.
A Blackboard demo course and further information on Blackboard functions from the perspective of teachers and learners can be found on the website of the eLearning / RUBeL staff unit at the Ruhr-Universität Bochum.
Blackboard Learn is a complex system and can only be operated intuitively to a limited extent. At the beginning, more intensive training is necessary, not least because of the numerous setting options. Knowledge of HTML or programming skills are not required when dealing with the learning environment. Knowledge of HTML is helpful if you do not want to work with the text editor activated by default at one point or another.
External assistance in German: External assistance in English:
Blackboard Learn typically runs on an Apache Tomcat web server.
conditions
The following requirements apply to the use of Blackboard Learn on the part of teachers and learners: Blackboard Learn is installed on a web server. Blackboard Inc. itself use an Apache Tomcat web server for their hosted environment. Educational institutions can choose to use their own web server for hosting or Blackboard's managed hosting service.
Platforms
Windows
macintosh
Unix / Linux
Tested version
Blackboard Learn, Release 9.1, with CourseSites and a live demo
Manufacturer
price
Specific price information is not available on the Blackboard and CourseSites websites. According to the manufacturer, the contact point for price inquiries is the following contact address:

Blackboard International B.V.
Regus Frankfurt Herriots GmbH & Co. KG
Herriotstrasse 1
60528 Frankfurt
Tel: + 49 (0) 69 6 77 33 552
Fax: + 49 (0) 69 6 77 33 200