Sew dress

The dress is cut short and slightly figure-hugging easy to sew and is also suitable for beginners.
The free pattern is available in sizes 34 to 44 and in large sizes from size 46 to 54.
The dress will be off stretchy fabrice.g. jersey sewn and can be worn as a casual beach dress or as a chic cocktail dress for the evening. The jersey saves you having to sew in a zipper, so it's very easy.
Material for the dress
100 cm with 140 cm fabric width. Stretchy fabric / jersey - pre-washed
Jersey twin needle
Sewing thread
Cloth scissors, pins
That's how it works
Sewing pattern
Draw the pattern or print it out as a PDF.
Draw the pattern:
Here you can open the free pattern as a PDF and print it out.
Cut the fabric for the dress
Fold the fabric so that you can place the patterns for the front and back on the fold of the fold.
Pin the patterns in place
Cut out the fabric and add the following seam allowances:
Add an extra 2 cm to the bottom hem.
Add 1 cm seam allowance to the sleeve holes and neckline.
Add a 0.5 cm seam allowance on all other edges.
Transfer the lines for the bust darts to the wrong side of the fabric.
Sew dress
Shoulder and side seam
Lay the front and back of the dress right sides together. Pin the edges of the sides and shoulders together with pins.
Close side and shoulder seams (red line). To do this, use an overlock seam or a wide zigzag stitch. A normal seam curls and breaks quickly on stretchy fabrics.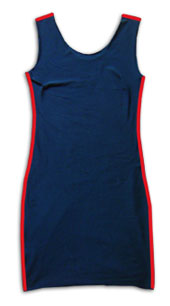 Bust darts
tip: Each figure is individual. Put on the dress or put it on a dressmaker's mannequin with your measurements. Pin off the bust darts so that the dress fits nicely at the sleeve opening. You can also correct the length of the dress and the width.
Close bust darts. Start on the outside edge and let the seam run out on the inside.
Iron the darts down.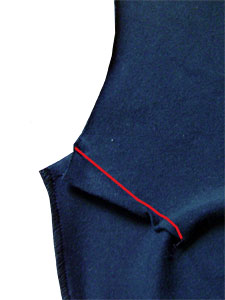 hem
Iron the lower hem edge 2 cm inwards.
Using a jersey twin needle, sew the hem from the right side of the fabric. This keeps the seam stretchable and gives it a professional look.
Here are tips for sewing jersey with a twin needle.
Iron the edges of the neckline and sleeve opening approx. 1 cm inwards. Sew the seam again with the twin needle.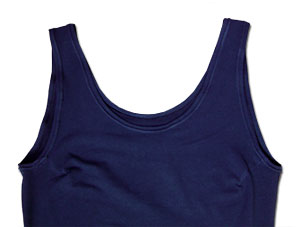 Finished! Have fun with your self-made dress